THE PARAMOUNT RANCH IN AGOURA, CA
This is was the set for Dr. Quinn, Medicine Woman which most of you have probably seen. It is a great reproduction of an old west town and visitors (You need to know someone living in the area to find it) can walk or bike through it. You can also pic-nic.
Unfortunately some of the set has now been dismantled.
Click on the picture you want to see. You need to have 1024 x 768 or higher screen resolution to see the full size pictures.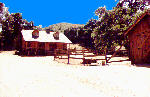 ---
Ron Lashley: artisan9@myrealbox.com